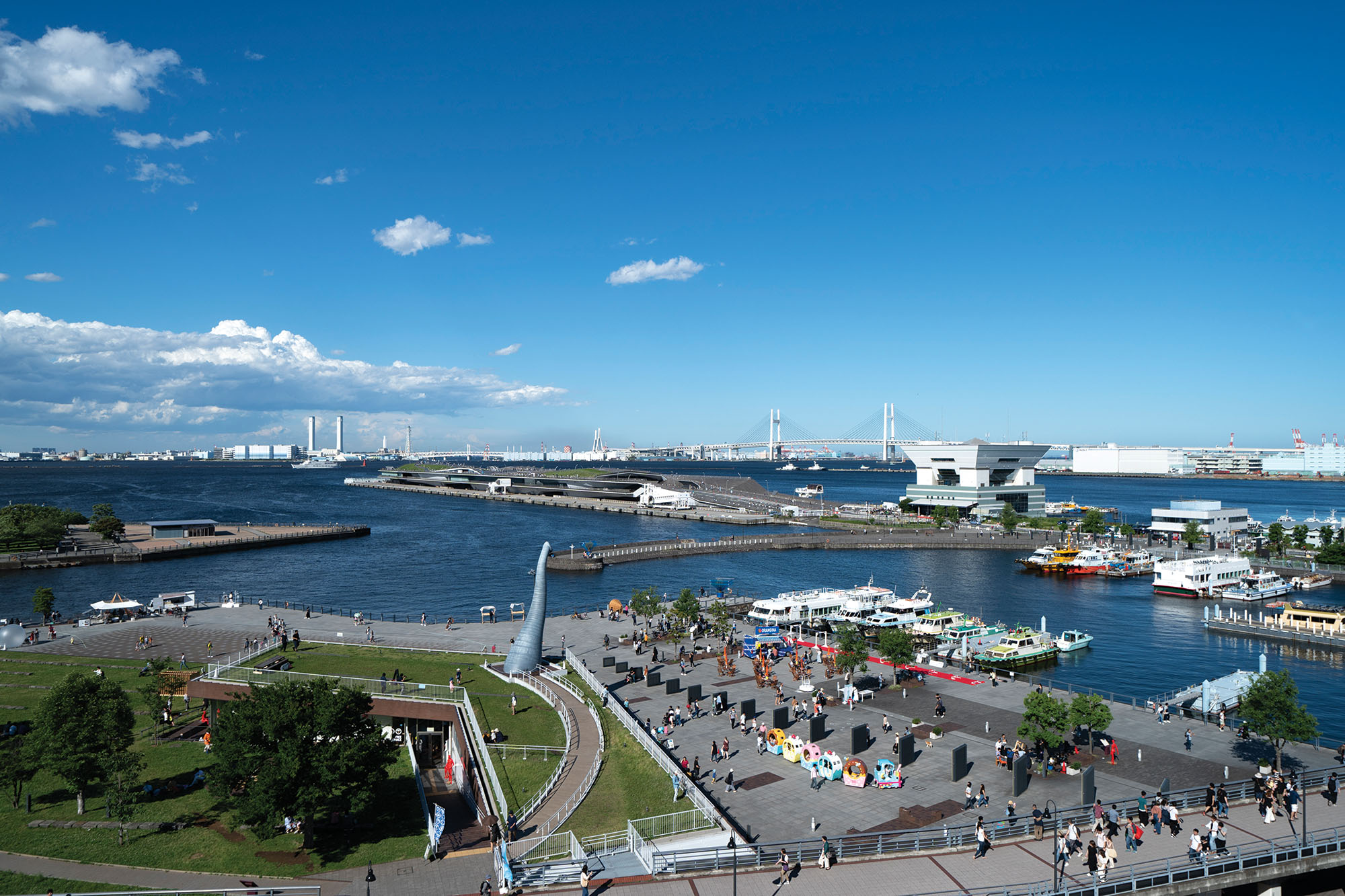 © Hajime Kato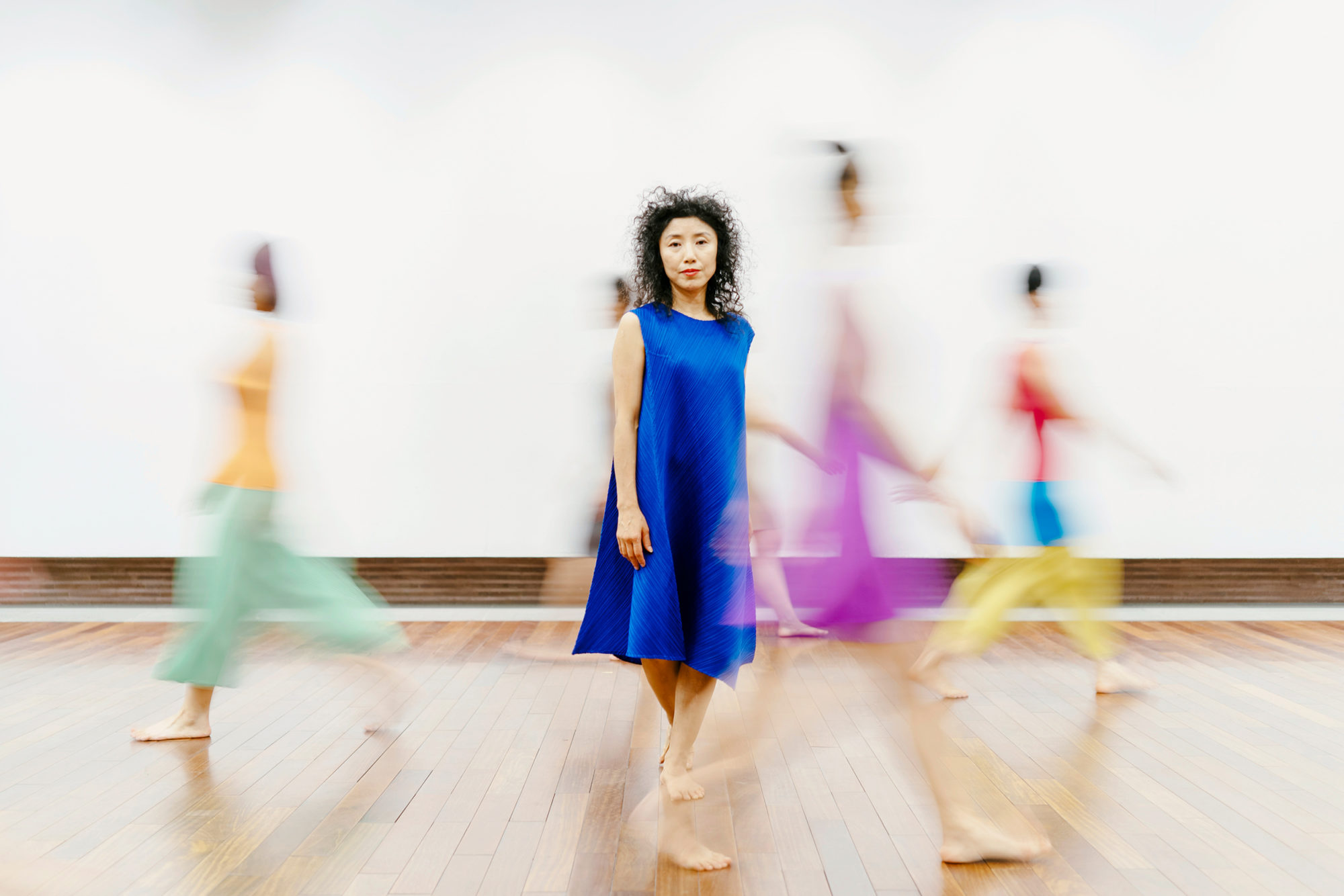 © Hajime Kato
Zou-no-hana Ballet Project, Yoko Ando (Project Leader)
24 Questions at Zou-no-hana (2009), Shuntaro Tanikawa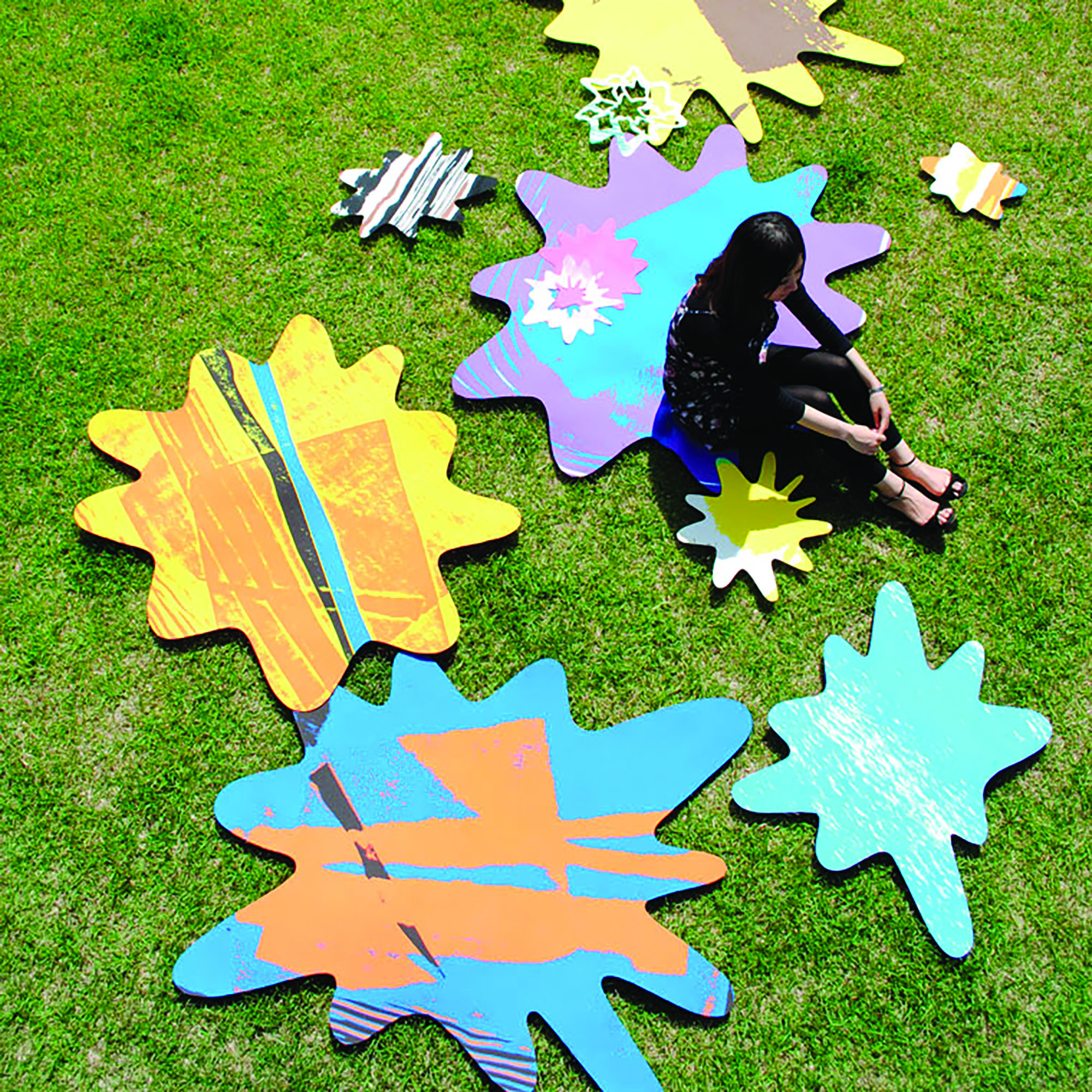 Zou-no-hana pick nick sheet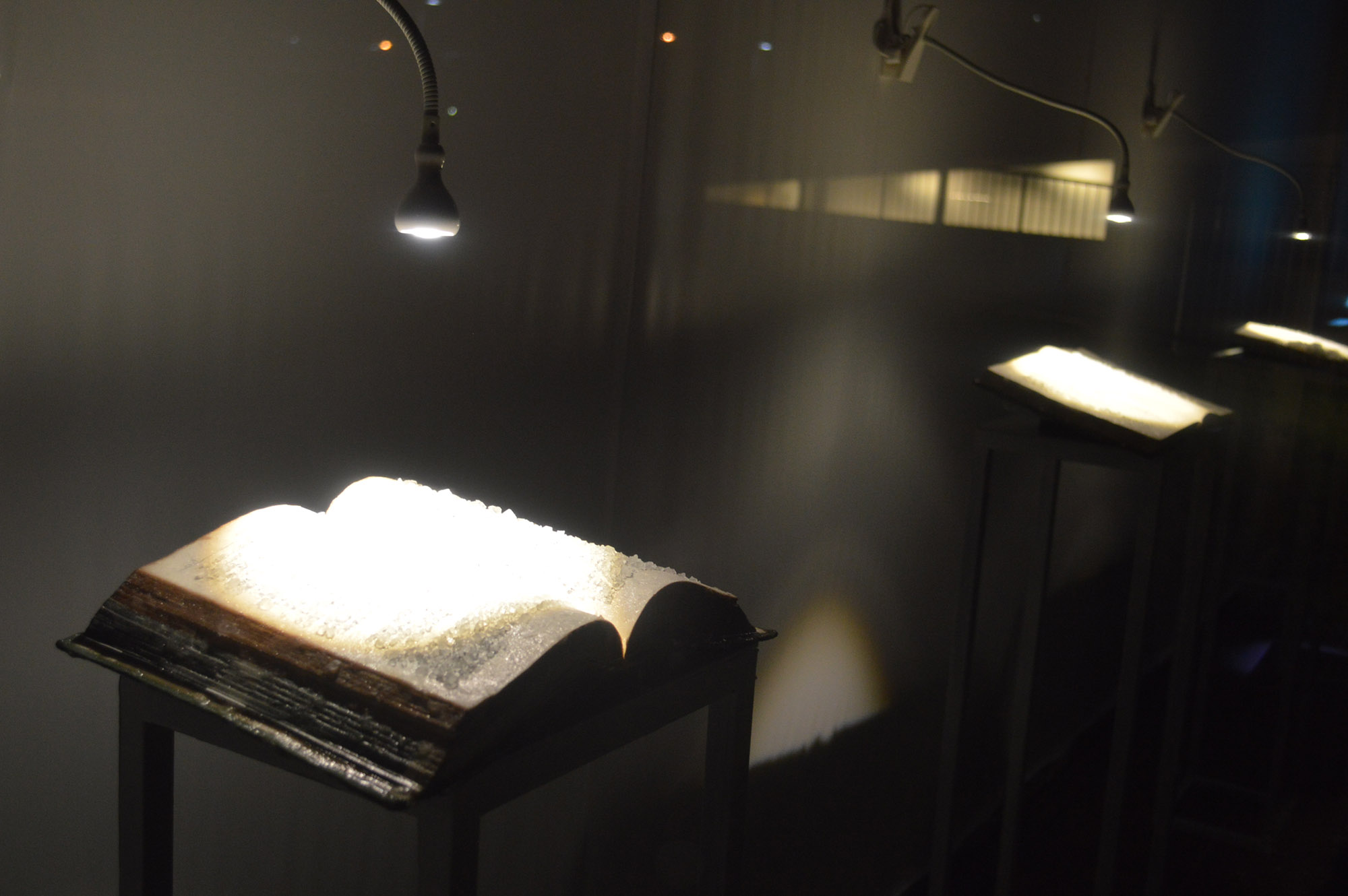 Port Journeys Porject, Andy Ayaka Yamamoto(2019)
© Hajime Kato
Zou-no-hana Terrace is a publicly accessible art space at the waterfront of Yokohama. It offers space for everyone: Free WiFi, a library, picnic seat rental and touristic information.
OPEN 10:00-21:30
© DAICI ANO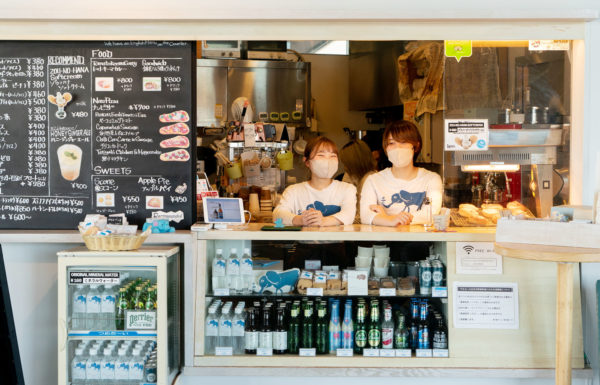 © Hajime Kato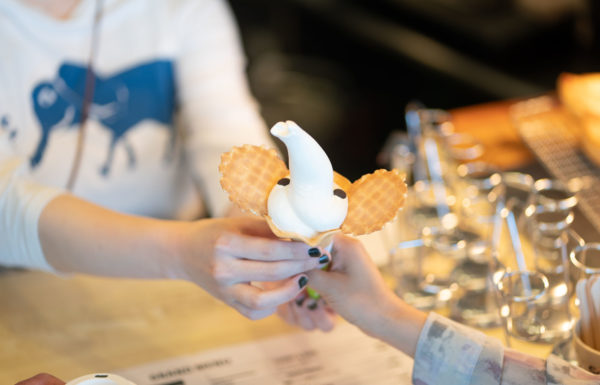 © Hajime Kato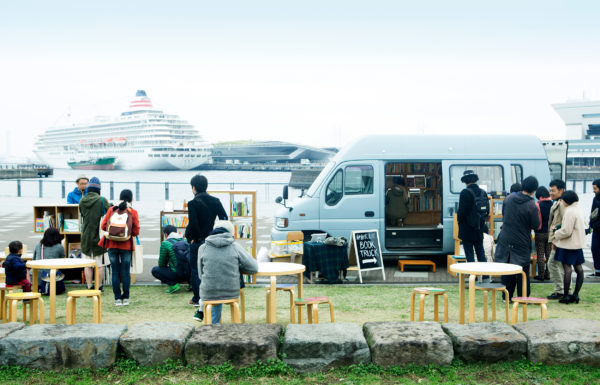 © Mito Ikeda
Enjoy Zou-no-hana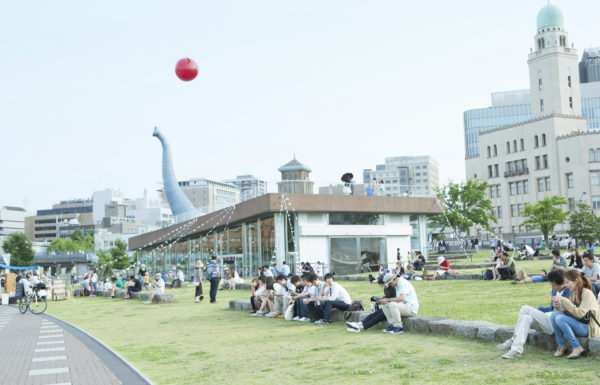 © Mito Ikeda
Enjoy Zou-no-hana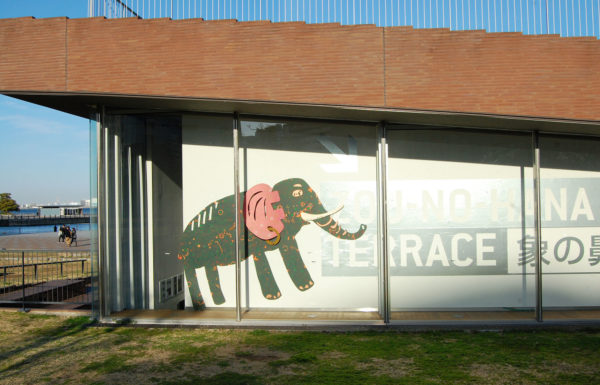 Kokkily+Hana+Zouno+Ko (2014)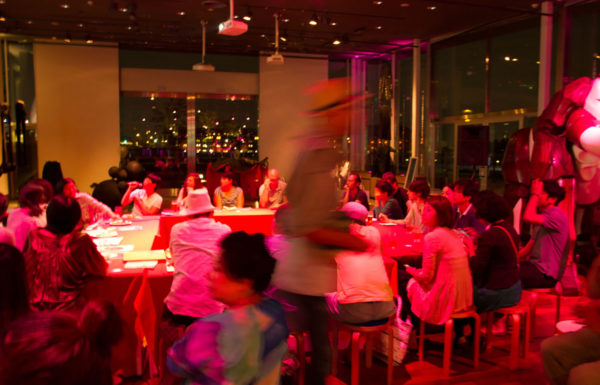 Snack Zou-no-hana
WELCOME TO ZOU-NO-HANA TERRACE:
A NEW CENTER FOR CULTURAL EXCHANGE
As Zou-no-hana Park, which houses Zou-no-hana Terrace, stands on the original site of Yokohama Port, it has a symbolic significance, connecting the city's past and future. Since it opened 150 years ago, the port has served as a place where various cultures came into contact with each other. Moreover, the exchanges that occurred in the port helped shape Yokohama, and provided a source of its creative culture. In that sense, Zou-no-hana Park was truly the starting point for the creative city of Yokohama. Based on this tradition, Zou-no- hana Terrace strives to function as a base for various encounters and connections between people and cultures as well as a source of new culture. The facility creates a link to the origins of Yokohama, art and culture from around the world, and Yokohama's esteemed cultural and artistic heritage. The future of the city arises from these myriad links. With its 150-year history, Zou-no-hana functions as a base for new cultural exchanges.
ZOU-NO-HANA:
THE ORIGIN OF YOKOHAMA PORT
Zou-no-hana Park stands on the spot where the U.S. naval officer Commodore Matthew C. Perry disembarked on his second visit to Japan on March 31, 1854. In 1859, after Yokohama was designated as one of the five ports in the Treaty of Amity and Commerce between Japan and the U.S., the area became the first full-fledged harbor in Yokohama, providing the area with a venue for brisk trade and commerce with other countries. The name "Zou-no-hana" is derived from the shape of the nearby embankments which, after gradually changing shape over the years, came to resemble an elephant's trunk. The present-day embankments in the park are reproductions based on the shape of earlier structures dating from the late 19th century, many of which sank into the ocean due to the Great Kanto Earthquake of 1923. The park also contains a group of display panels outlining the history of the site.
Various projects have been initiated to promote the diversity of cultural activities at ZOU-NO-HANA Terrace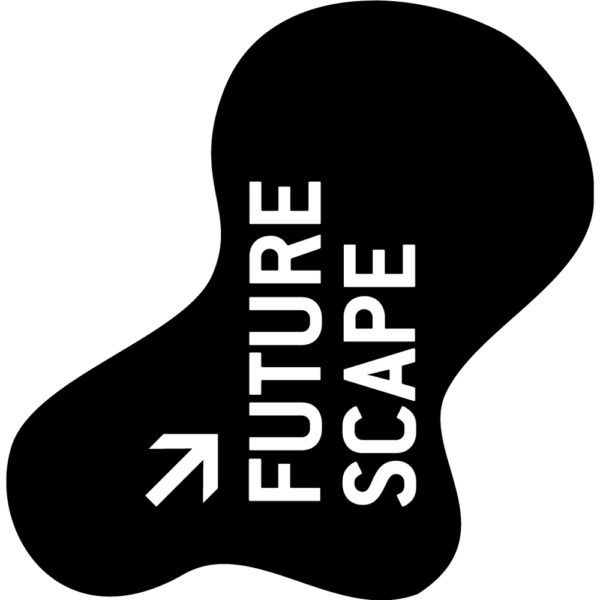 ZOU-NO-HANA FUTURESCAPE PROJECT
A 'public space project' using art to discover new ways to use the Zou-no-hana Terrace and Park.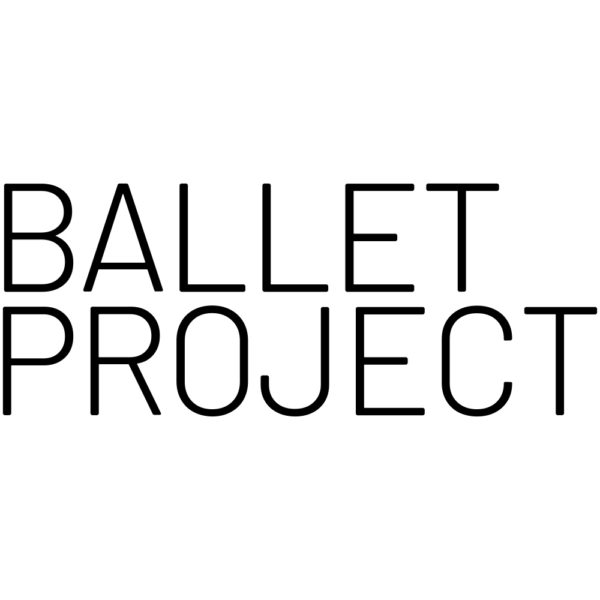 ZOU-NO-HANA BALLET PROJECT
A new project for establishing"Yokohama Ballet Company"supported by local citizens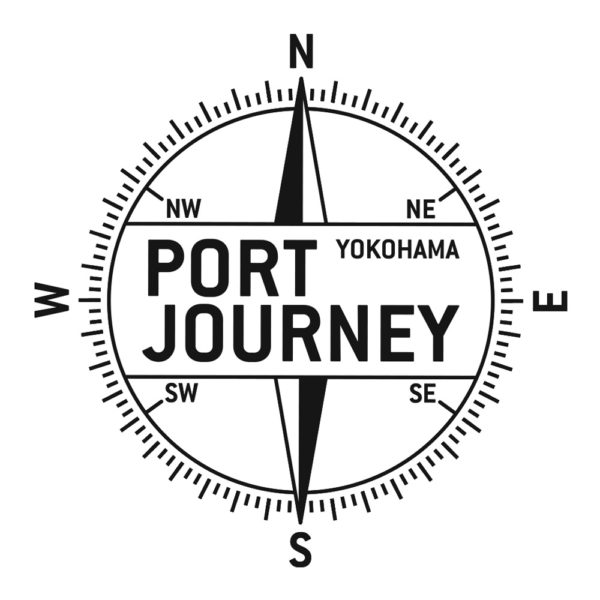 PORT JOURNEYS
Cultural exchange projects by port cities around the world that promote creative urban development through art.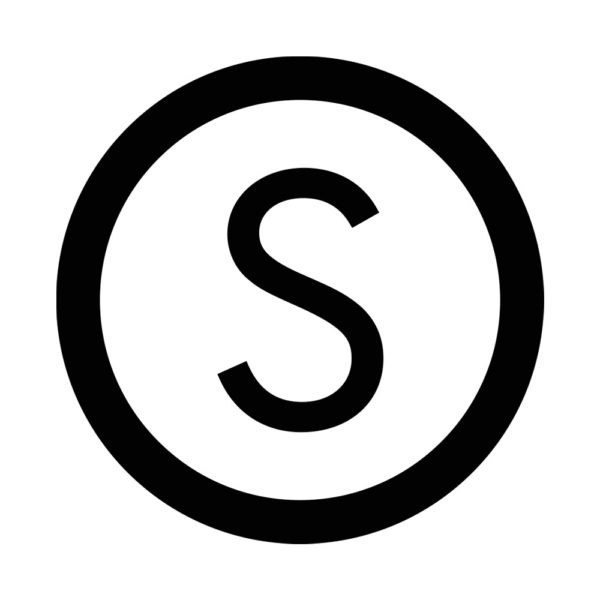 SLOW LABEL
Citizen-participatory manufacturing that connects diverse local people.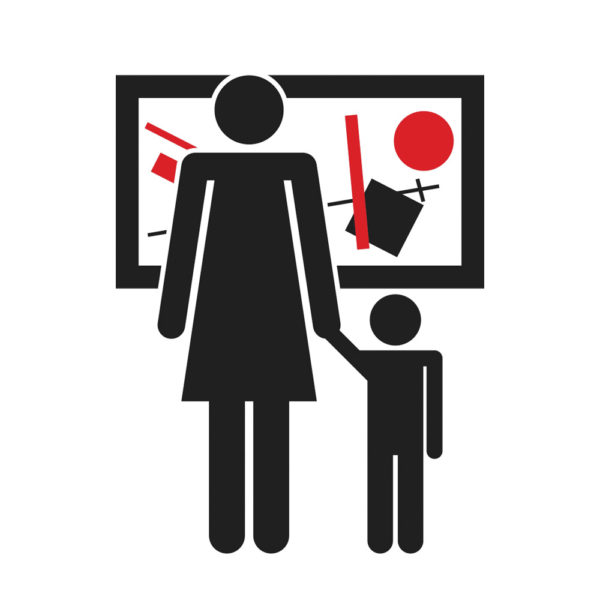 ZOU-NO-HANA GALLERY SERIES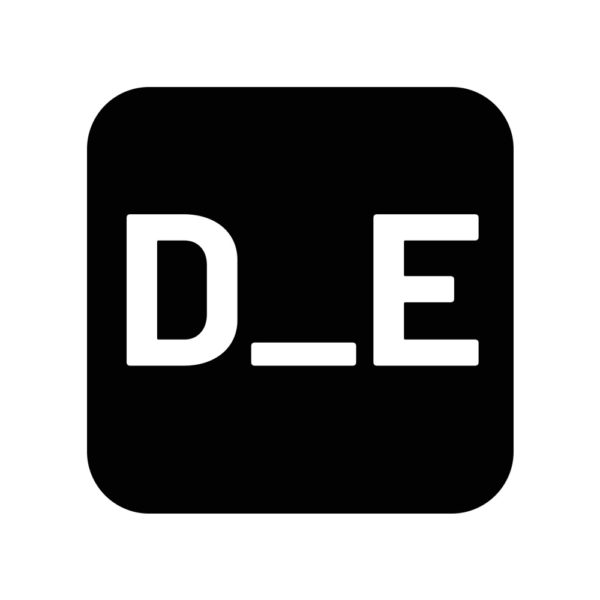 DANCE ENNICHI
Asummer dance event where citizen dancers gather to perform various genres of dance from around the world.
ZOU-SUN-MARCHE
A market where people can meet, share and connect with each other under the theme "Happy Sundays at Zou-no-hana Terrace".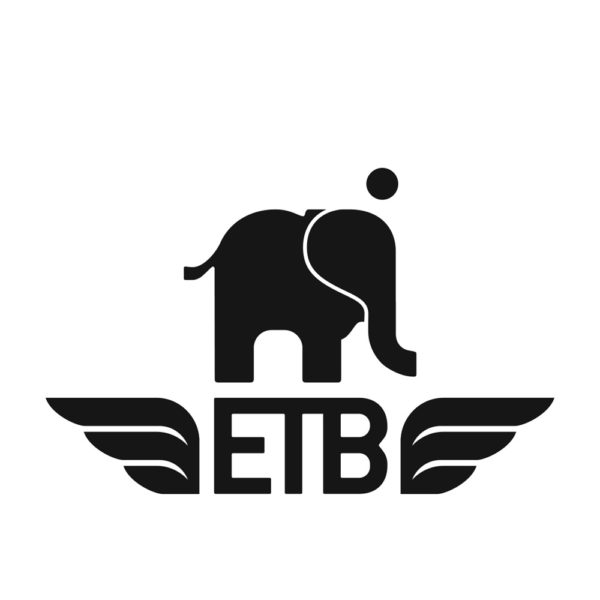 ETB
Yokohama Art Tourism from ZOU-NO-HANA Terrace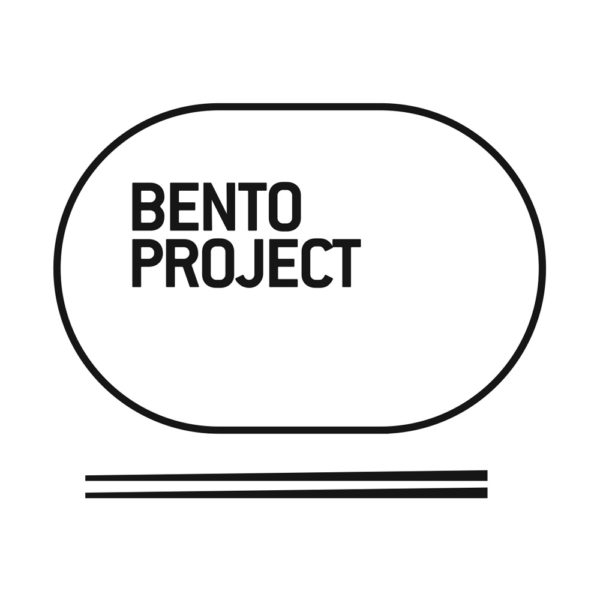 ZOU-NO-HANA BENTO PROJECT
The 10th of every month is "Bento Day". A series of events related to Bento.
SNACK ZOU-NO-HANA
A welcoming space designed to encourage the public and artists to interact.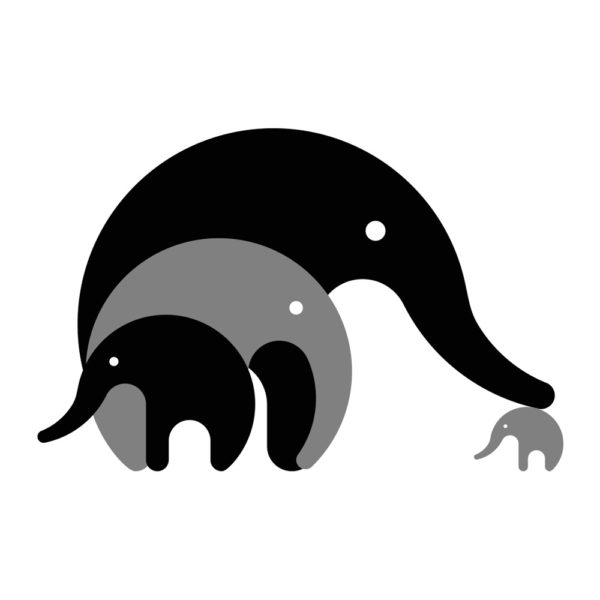 ATELIER ZOU-NO-HANA
Workshop series for children

MESSAGE FROM ART DIRECTOR
Zou-no-hana Park, the birthplace of the port of yokohama, is a location that has provided many encounters with world cultures, as well as the true modernization of japan. Today this essence has been infused into the creative development of yokohama, with the park serving as a source. To celebrate the milestone of 150 years since the port's opening, we will offer a variety of exciting events at Zou-no-hana Terrace, which will serve as a place for cultural interaction to provide new ideas and messages to the world.
This terrace will offer an information center for sightseeing in yokohama as well as some of the latest information on world cultures. At the Zou-no-hana Cafe, visitors can enjoy a relaxing time with attention to artistic detail in both furnishings and service. In addition, an exhibition space will be organically fused with the cafe to provide a variety of sophisticated, unique and creative programs and environments.
With the district's history in mind, we will incorporate some of the world's leading art and culture to create new culture while maintaining a connection with the creative activities of yokohama.
The opening exhibit will kick off with the port historical exhibition, in conjunction with the port's 150th anniversary events. The exhibition focuses on the structural remains of the Zou-no-hana district and the changes over time from the port's opening to the present. It also calls attention to the achievements of the individuals who have contributed to yokohama's culture and growth. Using the talents of many artists and creative individuals, the exhibits express the full past and present of yokohama through cutting-edge videos and graphics.
Visitors can also see the symbol of Zou-no-hana 'perry (the elephant that travels through time)'. This character was created by noboru tsubaki, an internationally active artist who exhibited his work at the first yokohama triennale. Zou-no-hana Cafe includes stools created by children of yokohama in collaboration with artist katja tukiainen from finland.
In closing, i would like to take this opportunity to thank everyone who has kindly lent their guidance and cooperation for the opening of this venue, including everyone at the committees for the 150th anniversary of the opening of the port of yokohama and creative city yokohama, the port of yokohama, local companies and organizations, and the artists and creative individuals who have given us their support.
And I look forward to your continued support and guidance.
2009 06.
Zou-no-hana Terrace
Art Director, Tsutomu Okada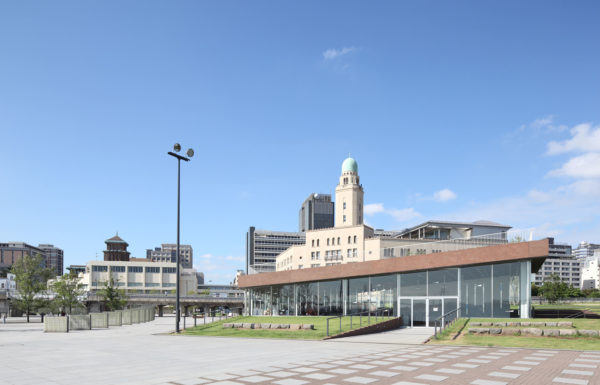 © Katsuhiro Ichikawa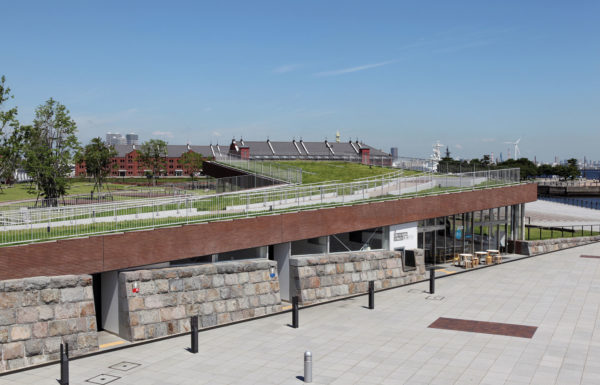 © Katsuhiro Ichikawa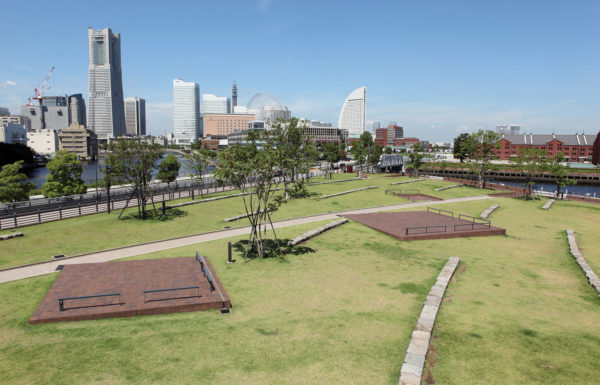 © Katsuhiro Ichikawa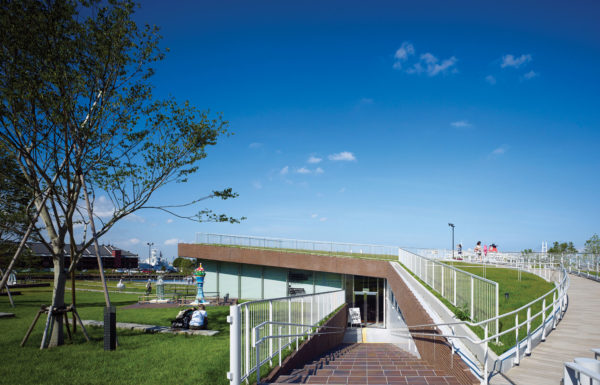 © DAICI ANO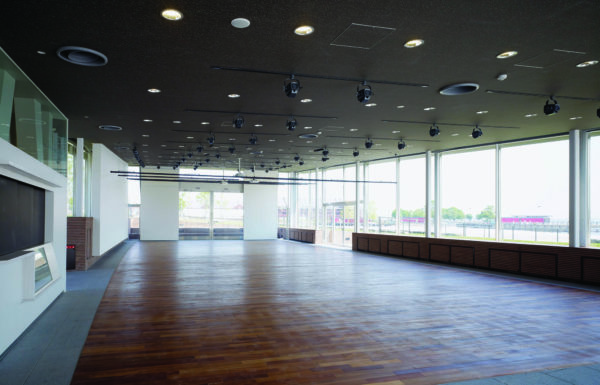 © DAICI ANO
ARCHITECTURE
Zou-no-hana Area (Zou-no-hana Terrace and Zou-no-hana Park) designed by Masao Koizumi, an architect, was built as a place to enjoy water scape and night view based on the concept "visualizing the origin of the Port of Yokohama." The area is an open space which consists of reconstructed "dykes" of the Meiji-period, "wharf" with a scenic view from Nihon-Odori to the port, and green "hill" with a vie of the port and sea. At night, screen panels in the Park with time-varying illumination form a loop of light.
Located on the "hill", the building of Zou-no-hana Terrace looks half- buried in the ground and is designed to blend in to landmarks including Yokohama Three Towers.
Zou-no-hana Terrace is aiming to be an information center of cultural and artistic activities based on a place with a long history.
AWARD
2009 Urban Design Movement, Award of Sight Scape
2010 Kanagawa Architecture Contest, Award of Excellence Yokohama City, Wacoal Art Center, Nihon-Odori Revitalization Commission won an award in the urban space category for Urban Landscape in 2010.
2012 AACA Award
2016 The 14th Environmental and Equipment Design Award, the first prize
FACILITY
Total floor area: 604.04m2
Structure: S-1/0
Ceiling height: 2.2 ~ 5.13m
Exterior finishings: exposed concrete, ashlar masonry of Komatsu stone, brick tiles
Completion: 2009 May
Open: 2009 June 2nd
MASAO KOIZUMI / ARCHITECT
Koizumi's main works in Yokohama include: ZOU-NO-HANA Park & Terrace (2009), Koganecho New Studio Site-D (2011), Konan synthesis government building (2017), Kotobukicho, Yokohama-shi health welfare interchange center/Municipal housing Kotobukicho sky apartment house (2019) and among his literary works are: "Planning method for LCCM Demonstration House", "Text of Public space","Housing Planning and Environmental Design","CLIMA DESIGN","Essays on Environmental Architecture~Towards a new modern architecture".
---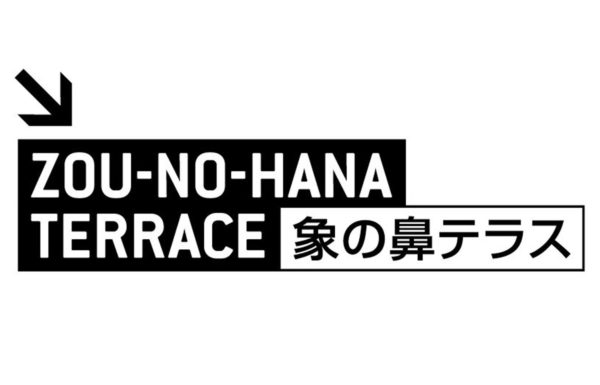 Logomark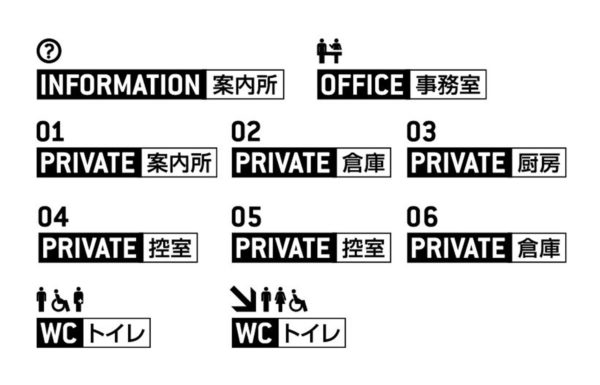 Signage system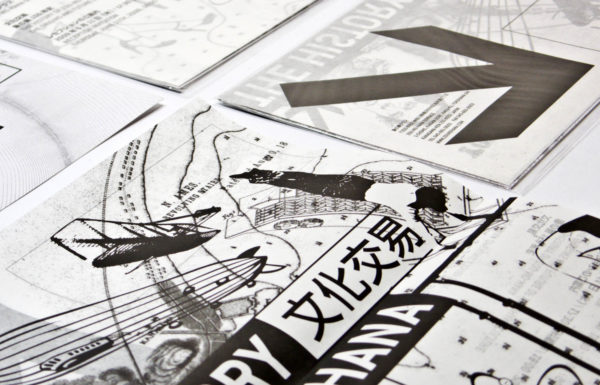 Invitation for the opening 2009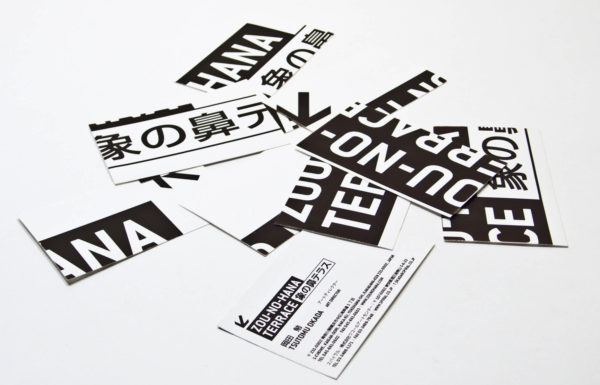 Name cards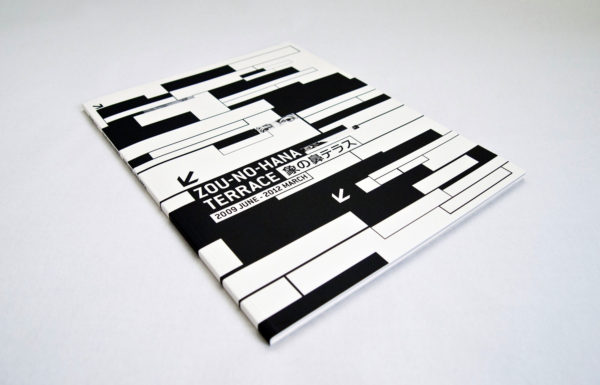 Document book
CORPORATE DESIGN
The corporate design for Zou-no-hana Terrace was created by so+ba

The modular logo is composed of black and white blocks which is the basis of ZOU-NO-HANA Terrace's branding. Blocks can be added and taken away to visualise the company's development of various projects. The logo also consists of an arrow, representing both arrival and departure at the same time. The combination of black and white, English and Japanese appeals to multicultural events, as the venue is located in the port of Yokohama, which was a cultural and trading centre.
so+ba
The Swiss design unit so+ba was founded in Tokyo in 2001 by Susanna Baer and Alex Sonderegger. With experience in graphic design and advertising in Switzerland and Japan, as well as a good understanding of the two very different cultures, cross-cultural communication is one of so+ba's strengths and focuses.
so+ba is active in the fields of graphic design, art direction, sound visualisation and teaching typography and design.